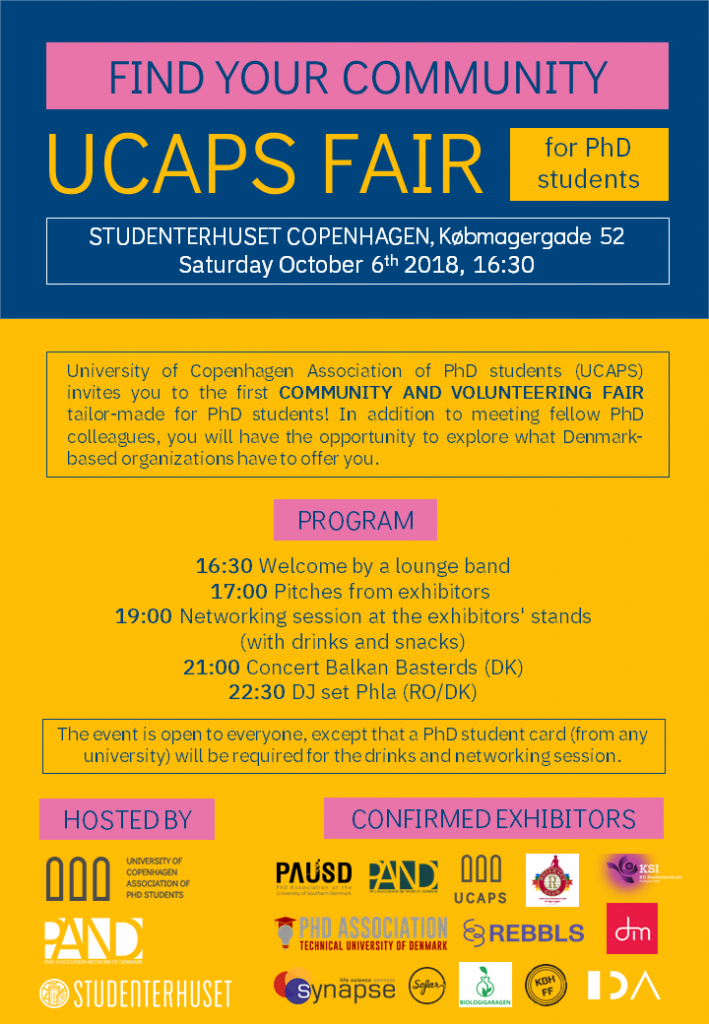 UCAPS (University of Copenhagen Association of PhD Students), PAND (PhD Association Network of Denmark) and Studenterhuset are welcoming all PhD students in Copenhagen for a fun volunteering and community fair.
Have you just started your PhD and would like to talk to more experienced students? Are you a PhD veteran looking for free-time activities? Are you Danish and think it's time to volunteer? Or are you a foreigner and would like to soak in the Copenhagen life?
Well, this event is for you all!
At the UCAPS Fair for PhD students, besides meeting fellow PhD students, you will have the opportunity to explore what Denmark-based organizations have to offer you. Ranging from sports, volunteering or something more professional, you will also get the chance to meet professional unions who can introduce you to the Danish work system.
The Studenterhuset bar will open to provide drinks and snacks at student-friendly prices, and to keep the atmosphere cozy and fun, there will be music during the day and a concert and party in the evening.
Timeline:
16:30 A lounge band is welcoming the guests
17:00 Presentation of UCAPS and pitches from exhibitors
19:00 Networking session at the exhibitors' stands (with drinks and snacks)
21:00 Concert with Balkan Basterds (DK)
22:30 DJ set Phla (RO/DK)
You are very welcome to bring as many colleagues and PhD students, to have fun, network and celebrate volunteering. The event is open to everyone, except that a PhD student card (from any university) will be required for the drinks and networking session.
Remeber to register on the Facebook event, so we know how to stock on drinks and sandwiches!